---
GALLERY
David E. Stone
January 1 - 31, 2015
---
click on a link below
DOWNLOAD - GALLERY fading memory document David E. Stone 6_2015
As the memories of the first 2015 online exhibition, GALLERY by David E. Stone continue to fade, so are the downloadable PDF files that documented the existence of this show.
What you find below is a fading memory of the exhibition that happened five months ago.
It's increasingly difficult to remember things that has they actually occurred just earlier this year.
At least, there is this document to refer to regarding what may have been included in the exhibition.
Although there have been several evolving iterations of that PDF and each replaced the one that preceded it.
There will be only one additional iteration before it fades completely from memory.
Download the current GALLERY PDF document by clicking on this.
THE EXHIBITION
January 31, 2015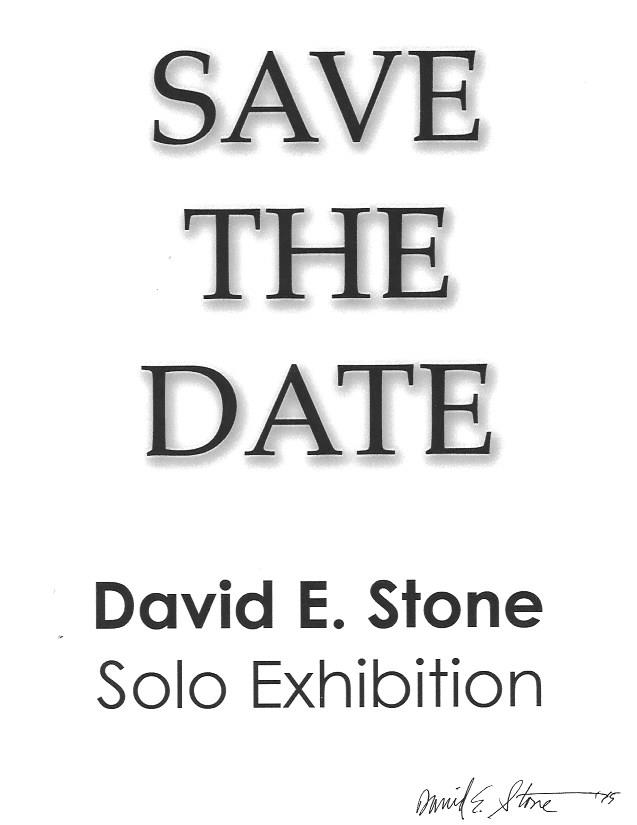 Now it is time to have the invitation printed for distribution in advance of the exhibition.
January 30, 2015
The exhibition will soon be held. Plan to ask patrons to Save the Date
January 29, 2015
If one is completely uncomfortable with the loosely determined eye level estimate, there are official guidelines, one can follow.
Mnay galleries hang their art at 58 inches high.
The center of the artwork, not the top of the piece, should be at that height.
This means you need to do some math: Measure the distance between the wire and the top of the frame, and measure the height of the art and divide it in half.
January 28, 2015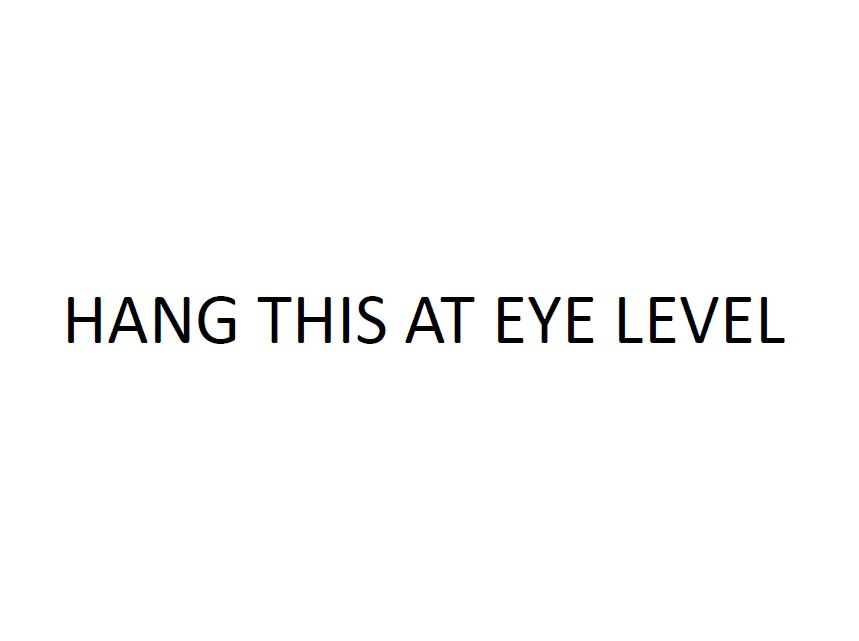 Works that are different sizes or have different focal points may prove to be difficult to display.
When in doubt, hang at these at eye level.
January 27, 2015
For works that hang on the wall, you can hang them at eye level
January 26, 2015
In preparation for the exhibition, an artist needs to decide how to display the work in the show.
The artist may find that many of the works may need to be framed.
January 25, 2015
The work is often different sizes. Dimensions variable.
January 24, 2015
Ready to let work out of the studio. Understand that others may use the work to suit their purposes. Confident that the work will survive this foray into the public realm.
January 23, 2015
Artists.
In your studio:
Challenge yourself. Don't settle into your own ism. Challenge your instincts.
Resist the obvious. Dig deep. Find something to say that stretches beyond convenient one-liners. Embarrass yourself with new ideas.
January 22, 2015
Call to artists. . .download this free PDF. Place on a studio wall and preferably near the door. Study and understand the consequences.
January 21, 2015
Call to artists. . .download this free PDF. Place on a studio wall and preferably near the door. Study and understand the consequences.
January 20, 2015
Next a call to artists for their work. . .
So it can be placed where we want (and next to whichever other artists we feel will reinforce the theme that we have determined supports what we are trying to achieve), promoted to whomever in whatever way we think will be best, sold (or not) to the collections we feel are best and then reviewed by writers who will reference the work in their own context.
January 19, 2015
Now it's time to get artwork for a Gallery exhibition.
January 18, 2015
Now, one will need a way to designate what is a WALL, DOOR and FLOOR.
You can buy a limited edition version wall graphic by David E. Stone with signed & numbered certificate of authenticity.
Limited to an edition of 10. $500
January 17, 2015
The model is complete. Now make it possible for the GALLERY to exist almost anywhere that has a wall, door and floor.
January 16, 2015
This is an example of how the GALLERY 3D Model looks when assembled.
Send us pictures of your assembled GALLERY.
mailto:info@anotheryearinla.com
January 15, 2015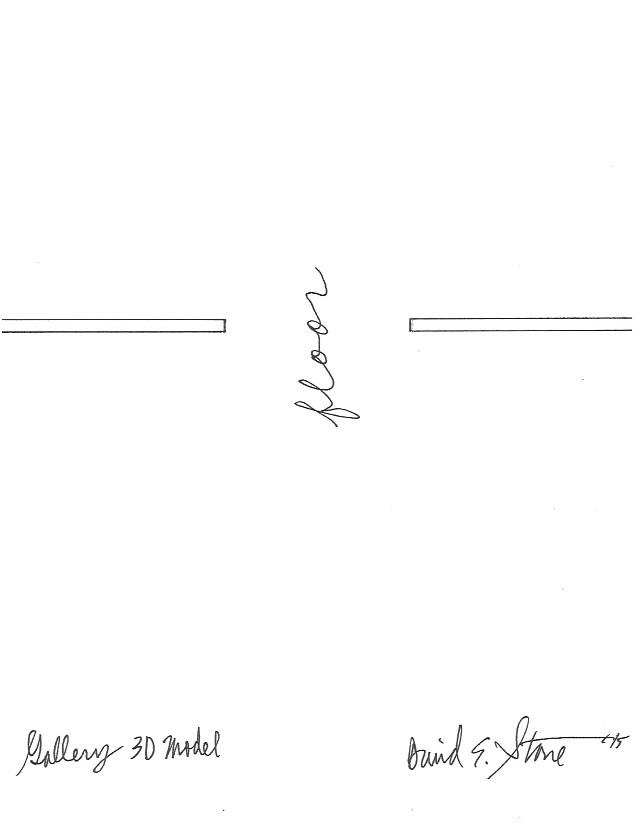 Build your own GALLERY.
Download the PDF. Glue the FLOOR page (shown on left above) onto an 8.5" x 11" piece of 3/8 foamcore board. Then cut the WALL DOOR page (on right above) into two halves following the dotted cut lines. Then glue each half page to either side of a 8.5" x 5.5" piece of foamcore board making sure that each half has the matching orientation for the top and bottom. Then cut out the top and one side of door following the dotted lines. Glue the WALL DOOR piece on top of the FLOOR piece (bottom).
You can now own a three dimensional GALLERY.
DOWNLOAD THE FREE GALLERY 3D MODEL PDF
January 14, 2015
Pattern is almost finished. It should be possible to make this available as a download, so people everywhere can have their own GALLERY.
January 13, 2015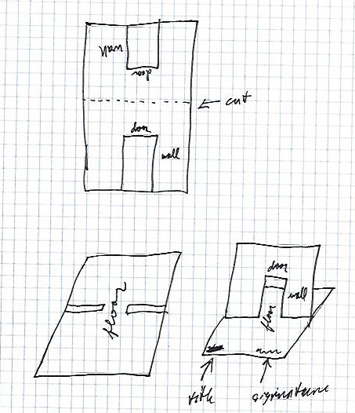 Working on pattern to build a GALLERY 3D model.
January 12, 2015
Really time to try to make this three dimensionally.
January 11, 2015
2nd attempt to resolve three dimensions for GALLERY. Wall and Door on vertical plane and floor on horizontal plane.
January 10, 2015
H + W and now, D.
January 9, 2015
First attempt at three dimensions for GALLERY. Door meets perpendicular floor.
January 8, 2015
"Study for two dimensional Infinity (short version, triptych)", 2015
Framed pencil drawing on three sheets (8 1/2" x 11") Stonehenge rag paper
Available for purchase, $1,000 + tax & shipping
For a limited time, this triptych had been available as a free downloadable PDF version., however, that opportunity is now gone.
January 7, 2015
Do a drawing that begins to define Infinity in two dimensions.
January 6, 2015
To fully explore fully this further, I need to move beyond two dimensions.
January 5, 2015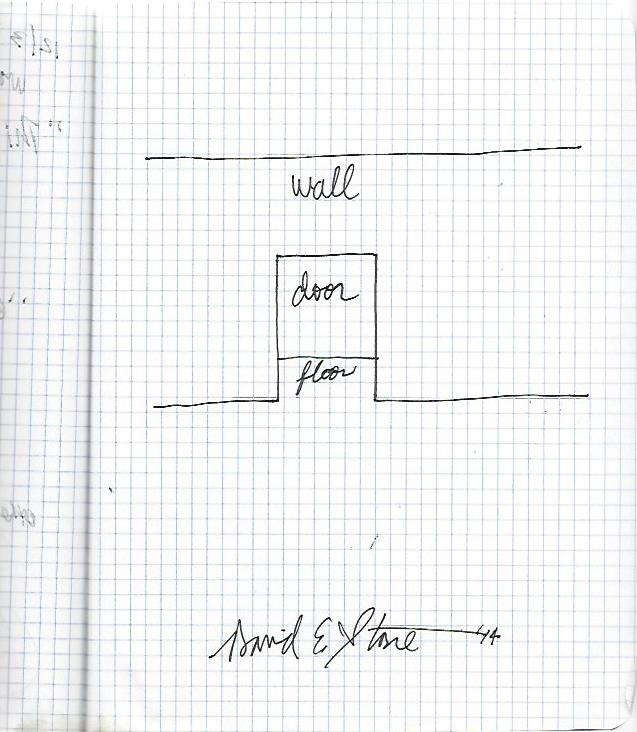 In thinking more about this hypothetical art gallery space further, I realized that I liked this abstract depiction better without any sense of where the walls may end.
I am making this drawing from my sketchbook available for sale (and will be torn out and framed when sold).
"wall, door, floor"
2014, framed black ink on graph paper, 9 3/4" x 7 1/4", $500
January 4, 2015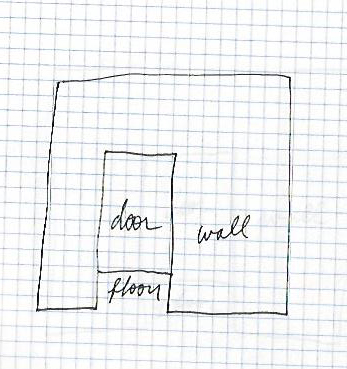 My first instinct was to draw the physical essentials that a gallery will posses to enable the display artwork. A door, a wall and a floor.
more tomorrow. . .
January 3, 2015
Drawings (from memory) that I did in my sketchbook of the floor plans from past incarnations of another year in LA.
GALLERY is about the first stop out of the studio and the physical space that will hold the artwork.
I am very two dimensionally oriented, so I welcome the challenge of interpreting a three dimensional space in an online environment.
. . .more to follow
January 2, 2015
My online solo exhibition, GALLERY, at another year in LA, is a continuing exploration of my interest in what happens to art once it leaves an artist's studio including how it is exhibited. Since arriving in Los Angeles in 2004, I have been fascinated by the moment when an artist relinquishes control as their art leaves the studio. More often than not, the work will go to an art gallery where it will be exhibited.
GALLERY is an exploration of potential space and the potential of space. And specifically, the potential space for the exhibition of art. This exhibition affords the opportunity to think abstractly (although specifically as well) about the contextualizing of an artist's work due to the space/place where the work is exhibited.
January 1, 2015
There were two opportunities on January 1 to download prints from the website, "first thing you see" and "see this, before this". Those prints are no longer available.
PRESS RELEASE
David E. Stone's solo exhibition, GALLERY, at another year in LA, is a continuing exploration of his interest in what happens to art once it leaves an artist's studio including how it is exhibited.
GALLERY will set the pace for the online exhibitions that another year in LA will hold throughout 2015. There will be new work shown (and sold as well as free downloadable art works), videos and live opportunities. This exhibition will evolve as I have intentionally not determined, in advance, all that I will do here during this month.
This January 2015 exhibition will show ephemeral works that will come and go (like the two different free prints that were shared only on January 1 and are now gone) throughout the month, so I encourage regular visits.
The encouragement to make regular visits to our new online gallery will enable you to interact with the other artists who will be exhibiting at another year in LA throughout 2015 because even though they, too, will have a one month exhibition, each artist will interact online throughout the year in anticipation of their upcoming exhibitions as well as after their solo shows as well. Think of the new another year in LA not as much as being an online static place to see some artwork as much as it will become a community of artists interacting/participating with you during 2015.