---
SEPTEMBER 18
click on the picture below to see a larger image

NIGHT BLOSSOM, 2015,
22" x 30", pastel on paper, $7,500

KALTENBACH ANNOTATIONS: This sculpture work is about modifying the visibility of a three dimensional object. This is work directly connected to my Minimalist Strategies. A way to reduce the release of information is to make it less visible. This low visibility work is an extension of the Minimalism of the Time Capsules as well as the secret pieces which function on the same principle; that of keeping the nature and substance of the art expression in the dark. With the Time Capsules, the work inside is ostensibly only hidden for a period of time; which gives the sense that the contents may only be available to a future generation. In actuality the secrets enclosed may be hidden for much longer. As fine art owned by private collectors or institutions, these works become somewhat invulnerable to the saw. It's frowned upon to cut fine art in two. But then if this thought is extended far enough into the future the art becomes artifact which is much less safe from the depredations of more thorough investigation.
The strategy of hiding information combined conceptually with the pieces in which I attempted to work within myself in some way. With the 'Wound Prints' I began to use my blood as medium. The 'Personal Appearance Manipulations' were works directly using myself. Both of these were the precursors to the Life Dramas.
These thoughts of hiding combined conceptually with the 'Self' works to suggest the 'Life Dramas', the last of which is the ('Regional Artist'). This project took a lot of thought and required me to strongly hold to my strategies. I decided to disappear as a contemporary artist and to become a regional artist by withdrawing from the international art scene and by finding a small city where I could pursue my painting and sculpture while making conceptual art privately.
I worked in the city, Sacramento, but I also moved to a barn in the country which had no address. People who were associates could write me there care of my land lady. I had no phone, no bathroom, and no hot water. I worked there free from the flow of public production and criticism. My motivations were partly to see what would happen to my contemporary art. I wondered how much it needed me to be there backing it up with continual new projects? In New York my art had consisted of manifestos and work that was intended to create influence. I had found that discerning the effect of my 'Causal' art was impossible, an aspect of my work that was pleasing to my sensibilities. It met my need for minimalism perfectly: art work that was not only invisible but that was impossible to determine if it even existed. I did think that my absence might clarify the effect on art that my conceptual processes might have had. For more information, see the ArtForum article, Alter Ego by Sarah Lehrer-Graiwer in the September, 2010 issue.
WORKS THAT RELATE TO NIGHT BLOSSOM: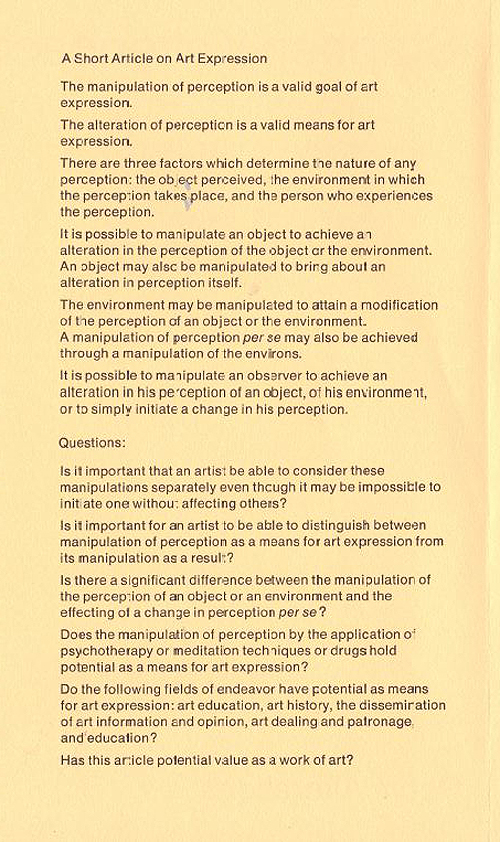 One page (with Kaltenbach's A Short Article on Art Expression) from the Room Alterations exhibition pamphlet from the Whitney Museum of American Art Room Alterations Whitney Pamphlet, (1969/2007), signed & numbered, edition of 10 – $500.00
Wound Print, 1968 Personal Appearance Manipulation - Mirror Coated Contact Lenses, 1970
7" x 4.2", Paper and artist's blood 14" x 18" Photo collage
Portrait of My Father, 1972 - 1979 Detail
10' x 15', Acrylic on Canvas, Collection - Crocker Art Museum, Sacramento, CA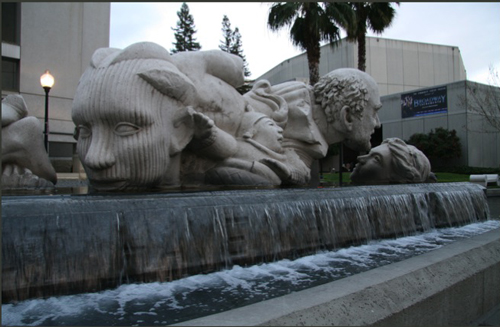 Time to Cast Away Stones, 1998
7' x 6.5' x 65', concrete composite, public art installation in Sacramento, CA